I recently created an ebay account. Sadly, I seem to be doing exactly what I said I would not do...purchasing like mad!
Anyway, I have bought some items which have in my opinion definitely been worth the buy! These are the few I have so far received:
Cinamoroll Penholder/Calendar (I am in love with this fluffy tailed cutie):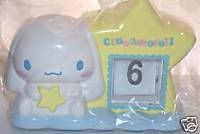 Of course this led to the purchase of this darling Cinamoroll bell phone charm (I am telling you I just love him! XD):
I also purchased some movies. I received them this Monday, I was so excited to receive these films as well!
The second movie I ordered was Tokyo Godfathers, one of my faves:
I also recently saw Steamboy, and I loved it. I recommend this to anyone! If you are a fan of Akira, or even Ghibli films, or Cowboy Bebop, etc. Must see! Great detailing in the animation. In the beginning it takes awhile to get into the plot, it is a little confusing at first. But oh man! Such a great film!
I am very excited to get to watch my two movies again! Have not seen Bebop in a couple of years, and Tokyo Godfathers is just so good I cannot wait!
Cowboy Bebop the Movie:
またね!